When I met Nina Boas about a year ago I had the impression that she was a very quiet, maybe even shy girl. Her calming, soothing personality did not give away that she is someone who sings on stage, pours water over herself during performances and puts herself in situations that seem comical and graceful depsite their clumsiness. When I met Nina Boas for this interview she showed me a side of herself that I could only describe as her performance side. A side that impressed me, in its dreaminess, because it is so different from what I know.
Growing up with artist parents Nina was surrounded by art, theater and performance all her life and felt drawn to performances since she was a young girl. She tried acting school, but noticed that, she did not like the role of the passive actress, who has to do whatever the director tells her to. Refocusing during her study of fine arts in Enschede she felt, yet again, drawn back to the field of performance. This time it was the performative presence, the immediacy of narrative drawing, and the crudity of the moment; the fact that it has no definite beginning or ending.
Nina experiments with mixed media, like life video clips, or interactive drawings and manages to create dreamy worlds, wherein she draws big houses, puts her audience in small boxes, or serves tea from very big cups. The recurring objects, like cups, kitchen utensils, shoes, dresses, or umbrellas fascinate her on a subconscious level, which make it hard for her to pinpoint why exactly she uses them.
On a conscious level she knows about the gender implications she playfully provokes, but likes to keep their interpretation open to the ones that want to read into them. Being aware of former times and the quiet role women had to play in society, is exactly why she has this deep urge to transform her dreams and ideas into a performative reality.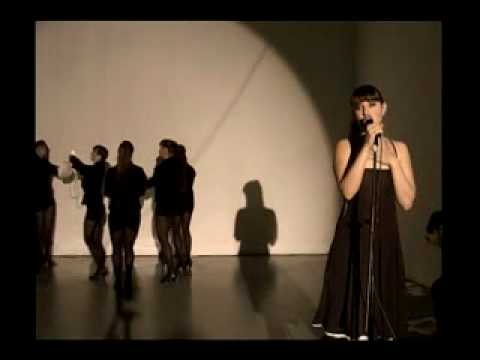 Since performance art is generally seen as a marginal art form Nina is fiercely supporting and organizing events that try to bring the diversity of performance and time-based arts into the fleeting spotlight.
When I left Nina I was yet impressed again, by the different impressions this young woman made on me and that I could not pinpoint what it was that made her initially come across as shy, or how her dreamy performances coexist with the sparks of her creative energy. But I felt reassured to know that there is a strong woman out there, who has found her very unique way to realize her dreams and transform her ideas into reality.
by MAXI MEISSNER
Nina Boas