Followers of our blog be familiar with the Public Ad Campaigns by Jordan Seiler. Mainly known for his Street Advertising Takeovers in Toronto and New York Jordan works fiercely on new projects that reinforce his right to protest commercial advertising's use of our public environment as well as Contest Promotions illegal activities. From taking over illegal billboards, to warning signs, to 48cent books, to woven paper installations…there's little that Jordan hasn't done to create awareness.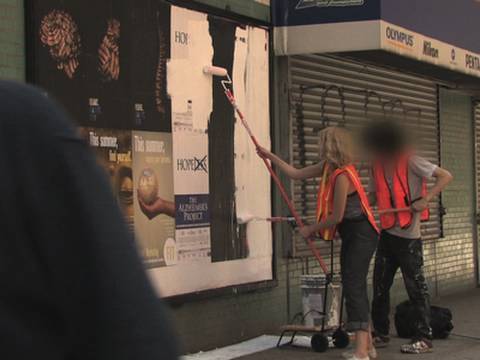 About Public Ad Campaign:
"Public Ad Campaign acts on the assumption that public space and the public's interaction with that space is a vital component of our city's health. By visually altering and physically interacting with the public environment, residents become psychologically invested in their community.
"Outdoor advertising is the primary obstacle to open public communications. By monetizing public space, outdoor advertising has monopolized the surfaces that shape our shared environment. Private property laws protect the communications made by outdoor advertising while systematically preventing public usage of that space.
"In an effort to illuminate these issues, Public Ad Campaign uses outdoor media venues for public art, chronicles the activities of artists intent on challenging public/private relationships, as well as other engaging contemporary issues in outdoor advertising and public space.
"Through bold acts of civil disobedience we hope to air our grievances in the court of public opinion and witness our communities regain control of the spaces they occupy."
Rumor has it that Jordan is planning a takeover in Europe in the near future…We keep you posted.
Public Ad Campaign