My friend Cheryl Walpole has been doing admirable things as an art therapist. Her non profit, Art Therapy: New York to Namibia needs your help on Kickstarter!
We are collaborating with the Namib Desert Environmental Educational Trust (NaDEET) to expand our art therapy program to a broader audience of Namibian children. We will work with NaDEET in 2011 for a full school year where we will introduce photography for the first time in addition to other various mediums. By using art, we not only give a voice to the children but also emphasize the importance of self-esteem and respect to our environment.
Self-esteem is vital for tomorrow's leaders to enact lasting change in their lives and their communities. Yet, throughout the developing world the traumas resulting from exposure to domestic violence, abject poverty, and disease can undermine a young person's self-empowerment. If today's youth are going to act as agents in the transformation of their worlds, they need to be equipped with self-esteem and creativity.
The Art Therapy Project (ATP) uses creative self-expression to facilitate self-expression, problem-solving, communication, and self-esteem among groups of primary-school-aged children. As a growing mental health profession, art therapy is founded on the idea that the creative process involved in artistic expression "helps people to resolve conflicts and problems, develop interpersonal skills, manage behavior, reduce stress, increase self-esteem and self-awareness, and achieve insight."
We are currently writing our grant proposal and seeking foundations in which to send it. We are a very unique program that seems to not fit in one particular niche therefore the need for further public fundraising is ever so important.
THAT'S WHERE YOU COME IN!!!
WITH YOUR HELP, YOU CAN MAKE ALL THIS HAPPEN!!! HOW POWERFUL!
HERE'S WHAT WE ALREADY ACCOMPLISHED———> Past project
Last fall, we spent seven weeks at the Namib Desert Environmental Educational Trust (NaDEET) where we brought the use of art therapy to the children. We collaborated with the director of NaDEET and created three directives that could support what the children were learning, giving them another way to process the information while keeping in mind the essential needs of children of Namibia. The directives included: creating a desert, real or imaginary; environmental art therapy, using natural surroundings to create; create your own desert creature, explaining certain necessary adaptations. We also incorporated an open art studio and group mandalas, promoting self-expression and working as a part of a group. The NaDEET program is structured that one school group attends the camp for a week at a time with ages ranging 12 to 15 years old. Within the larger group we were then able to meet with groups sizing from 6 to 8 children per therapist, giving them much more attention than their normal classroom size, 40 children to one teacher.
The two weeks we were without school groups attending the program, we kept ourselves busy by creating educational art at the base of NaDEET. We painted a mural (8' x8') illustrating the importance (and fun) of solar cooking, in addition to painting five educational signs explaining the uses of the NaDEET solar energy, weather station, solar water pump, etc. The purpose of these signs is to educate tourists that visit the reserve to hike (TokTokkie Trails), and perhaps make a contribution to the cause.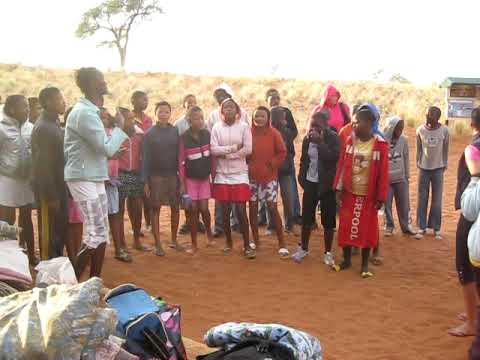 New York to Namibia