I suppose every generation idealizes generations before. This gets emphasized by older folk who talk of the "good old days," and romanticized by Hollywood, with picture perfect recounts of days past. For me, I fantasize about the creative energy on the Lower East Side in the 1970s and 80s. When Joseph Beuys lived in Rene Block Gallery with a coyote. When Jean-Michel Basquiat mingled with Debbie Harry and Ric Ocasek in Downtown 81. When the creative spirit of bohemia lived in lofts in Soho for $100 a month.
It seemed artists banded together, and the subsequent projects and work being created was experimental and innovative. I was either a kid, or just a glimmer in my mama's eye when all of this was going on, so it is easy for me to ignore the poverty, or the danger on the streets of Manhattan and just focus on the creative energy that seemed to envelop the city.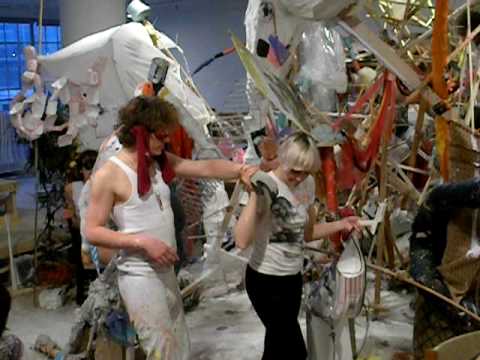 I realize that many members of this very No New Enemies network are doing just that as I write this, but the spirit of experimental art has become somewhat stagnant in New York for the time being, with the white cube being more the norm. Trends in art are cyclical, and I'm aware that as the economy crashes, so leave many conservative buyers, opening the gate for more nontraditional art (which I seem to mention in everything I write). Or so that is my theory. I love art, and there are many shows which excite and inspire me, but not on the same level or with the same intoxicating energy that the New York of the late 70s/early 80s seemed to inspire. Perhaps I'm just in my winter cynicism, but in general I read up on events and performances in galleries across Europe and I can't help but wish I could be there.
And maybe it is because this group is European (Austrian to be exact), but these creative yearnings have been satisfied for the time being after a week of watching the Gelitin collective create a blind sculpture at Greene Naftali Gallery in Chelsea. The group spent a week creating a room-size sculpture while completely blindfolded, unable to see the fruits of their labor until its completion at the end of the week. Just reading about it excited my art nerdiness, this is what I've been looking for to entice me out of Brooklyn in this freezing winter. "Assisted" by a star-studded roster of art world talent (David LaChapelle, Agathe Snow, Urs Fischer, Andrew WK, Tom Sachs to name a few), the members of Gelitin are lead around and guided. The assistants offer tools (blindfolded power tools!), papier-mache, tape, ladders, glue, paint and lots of whiskey. A blindfolded member of Gelitin creates a soundtrack to the scene, blindly playing piano or electric guitar. (Andrew WK is asked to relieve him for smoke and whiskey breaks) Gelitin members (all men) wore short shorts, or homemade g-strings (yep), and high heels. They saw and sew and glue and climb ladders and smile all the while.
The first day I visited the gallery I stayed for 2 hours. The second time, I meant to stop by and snap a few pictures. Four hours later the audience, including myself, was getting kicked out as the gallery was closing. I hadn't even realized that much time had passed. To witness the synthesis of the creative moment is extremely intoxicating. Mostly frequenting what I'll call "regular" shows and openings, I'd almost forgotten about the feeling of being present during something like this. Honestly, I've always kind of avoided a lot of "performance" art, because frankly it is usually (giving the artist the benefit of the doubt) over my head. This show has reminded me that art is not necessarily the finished visual product, but that art is ideas and actions. Which, in a way, justifies the factory-like production of art by Hirst and Murakami (I know I don't need to mention Warhol)…although I'm still unsure how I feel about that. I'm over-simplifying a richly grey area, but the point being that Gelitin's creation of this totally unsellable blind sculpture, which I am not connected to visually, has excited me in a way that even some of my favorite paintings have not.
Aside from feeling the energy of the creation of this sculpture, the Gelitin blind sculpture also did something that many exhibitions cannot- it democratically brought together a group of art lovers and art world professionals. This wasn't a cliquey opening comprised of circles of those in the know, those there for the free booze, those there to get a glimpse of Chuck Close's fancy wheelchair, or people like me who came to see the art as much as see all of the above circles stare each other down. And maybe all while enjoying a free glass of shitty wine, so what? Everyone who entered Greene Naftali was deemed one slot- audience member. Gallery directors, art students, writers, even Kiki Smith, all mingled and talked mostly about the same thing- what was going on in front of them. How often does that happen? I really can't think of another exhibition that commanded such presence that everyone in attendance (myself included) put aside their petty art world gossip or everyday talk and spoke only of the exhibition at hand.
This exhibition, or performance, or event, or whatever you want to call it sort of saved my winter. I am again excited by the art world, and feel like I am viewing it through fresh eyes. I'm aware that there are, and were, plenty of other amazing things going on out there in the art world. I'm aware that Gelitin is not alone in their creativity, or action, or ideas. But for now, in the cold winter of 2009-2010, they've become my own personal art catalyst.
Gelitin Feature