Last week our very special Abner Preis starred at Art Rotterdam where he presented Java Jesse and the story of "Chocolate and Roses," the world's most special band (complete with band, catwalk and Java Jessie's Pee Pee Chic, Poo Poo Chic and Balltastic collections. Before the fair opened it's doors, priceless hype had already begun and people all across the Netherlands were speaking of MOUSSE.
This article is written by the Editor in Chief of Time Out Amsterdam, a former US Fulbright and Iowa-Writers' Workshop fellowships recipient, Nina Siegal. Nina generously allowed us to republish her thoughts on the art of Abner Preis.
The Preis of Admission by Nina Siegal
Abner Preis exudes the kind of raw enthusiasm and unfettered glee that's utterly refreshing in the sometimes-oh-so-serious gallery world
Back in November, I found myself at a tattoo parlour in Amsterdam, swigging Jack Daniels straight from the bottle and dancing like a head-banging teenager in some dingy London mosh pit circa 1978. A few minutes later, with my fellow 'Rock 'n' Rollers', I was part of a dance-off around a live fire, against the rival 'Vikings'.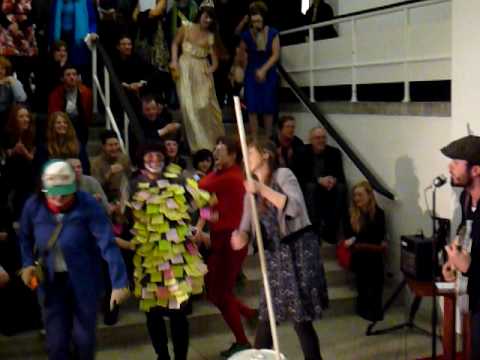 It was Abner Preis who brought this out in me. That's my story and I'm sticking to it: blame Abner Preis. I'd first met Abner at Art Amsterdam last year. This big guy wearing an American trucker's cap and sporting a few days' worth of stubble invited me to take a seat in the Gabriel Rolt gallery's stall, so he could read me a story. I was a bit tired of trawling the exhibition of otherwise uninspiring contemporary art, so I said yes. Abner flipped open a book of pictures filled with bright, childlike drawings, and in a soothing voice recounted the tale that went with them. I can't fully describe why this was exhilarating, but it was.
A few months later, when I was at an opening for Preis's large-scale paintings, I signed up for a two-day workshop with the artist and his artistic cohort, Wayne Horse. The plan was to make a short art film called 'The Honor Dance', which was advertised as 'an anthropological investigation into the contemporary characteristics of the living icon'. Yeah, right.
Turns out, this is the kind of thing Preis does on a pretty regular basis. That is to say, under the pretence of art, he gets unsuspecting regular people to do things like shout 'rock 'n' roll!' at the top of their lungs, dance around fires in playgrounds, and generally run amuck. Last month, Preis and Horse got a whole room full of people at a Mediamatic opening in Amsterdam to play a game called 'Pussy versus Penis', using their hands.
This month, Preis is the 'face' of the Art Rotterdam international art fair. He'll welcome an anticipated 12,500 visitors to the eleventh edition of the annual contemporary sale, telling two stories and getting up to other unlikely antics, with his girlfriend, performance artist Nina Boas, and other friends. A teaser, if you will: one story is about Java Jesse, a bright young girl who grows up to be a fashion designer and makes a line of clothing called 'poo poo and pee pee chic,' and another about Donkey Dan, a small boy with a big problem – in his pants. We're not promising you'll laugh; but you might.
Preis says he's just a part of an art movement that he and fellow practitioners like to call 'moose art' – as in chocolate moose. 'It looks like shit but tastes sweet,' he explains. 'Everyone who participates in what we do is really interested in creating something that has a value greater than what you might see at first glance.'
Fons Hof, the director of Art Rotterdam, said he asked Preis to perform on all four days of the fair, because he embodies the spirit of what the sale wants to present:
'He's a fantastic artist, and what he does is also not comparable with anything else you've seen before,' said Hof. 'He has his own strong idea about art, but also what I like about him is that he enlarges your idea about art. He creates a very simple thing, with a hidden beauty in it. It's also a little hypnotic – a story told in a beautiful way.'
Although Amsterdam has a number of contemporary art fairs each year, Rotterdam's counterpart has a reputation for being edgier, occasionally controversial and a great jumping-off point for smaller galleries that want to move into the international circuit. Several participating galleries, such as Office Baroque from Belgium, Lautom from Oslo and Paris Projects, are now showing in larger forums, including the prestigious Art Basel and Art Basel Miami Beach.
But it's still a small fair with only about 70 galleries and a comfortable vibe, where you can still get a story read to you by a performance artist. Preis, who was born in Israel and grew up in the Philadelphia-based graffiti-skateboard-comic book-inspired art movement best expressed in the film 'Beautiful Losers', is the kind of guy who can get everyone in the room howling at the top of their lungs. He exudes the kind of raw enthusiasm and unfettered glee that's utterly refreshing in the sometimes-oh-so-serious gallery world.
Just don't blame him if you find yourself behaving out of character at his sly urging. Unlike me, you can't say you haven't been warned.
**This article was originally published in Time Out Amsterdam / Feb. 2010.
Nina Siegal is the Editor in Chief of Time Out Amsterdam and generously allowed us to repost her piece. Hope you enjoy it as much as we did.
The Preis of Admission